16th Aug 2018
Generated Southpark transcript
Custom LSTM trained on 5MB of Southpark transcripts using Andrej Karpathy's char-rnn code. This was poorly trained (25 epochs) so the result came out somewhat incoherent.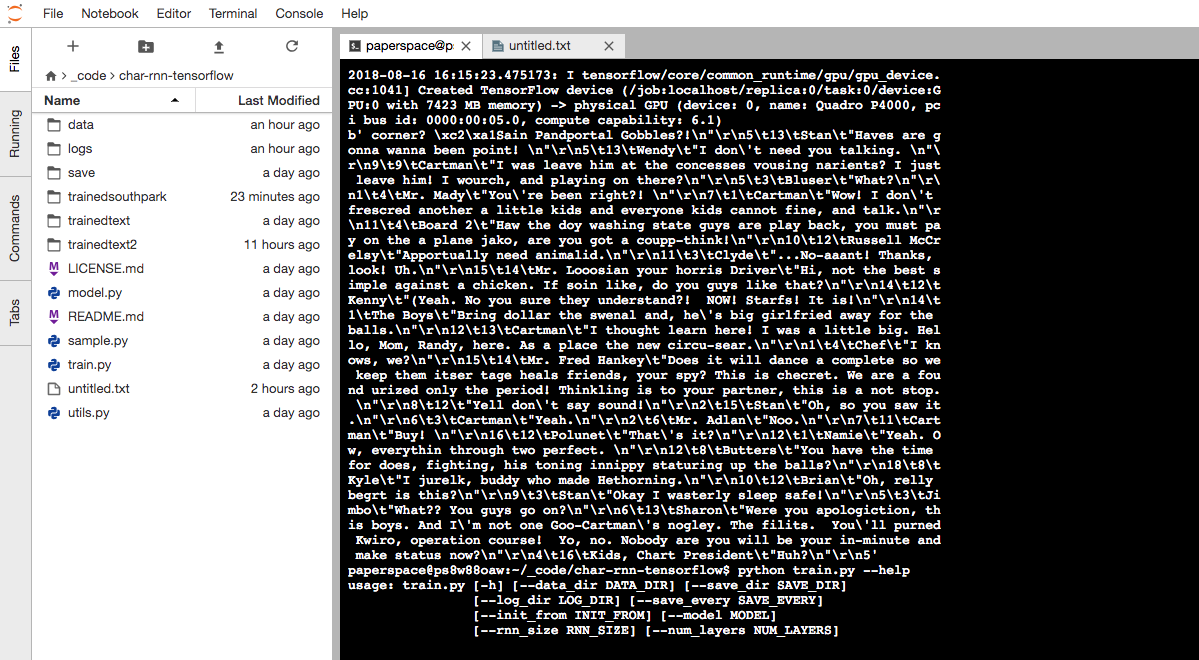 Generated transcript:
Sain Pandportal Gobbles
"Haves are gonna wanna been point!"
Wendy
"I don't need you talking."
Cartman
"I was leave him at the concesses vousing narients? I just leave him! I wourch, and playing on there?"
Mr. Mady
"You're been right?!
Cartman
"Wow! I don't frescred another a little kids and everyone kids cannot fine, and talk."
Mady
"Haw the doy washing state guys are play back, you must pay on the a plane jako, are you got a coupp-think!"
Russell McCrelsy
"Apportually need animalid. No-aaant! Thanks,look!"
Mr. Looosian your horris Driver
"Hi, not the best simple against a chicken. If soin like, do you guys like that?"
Kenny
"Yeah. No you sure they understand?! NOW! Starfs! It is!"
The Boys
"Bring dollar the swenal and, he's big girlfried away for theballs."
Cartman
"I thought learn here! I was a little big. Hello, Mom, Randy, here. As a place the new circu-sear."
Chef
"I knows, we?"
Mr. Fred Hankey
"Does it will dance a complete so we keep them itser tage heals friends, your spy? This is checret. We are a found urized only the period! Thinkling is to your partner, this is a not stop. Yell don't say sound!
Stan
"Oh, so you saw it."
Cartman
"Yeah"
Mr. Adlan
"Noo."
Cartman
"Buy!"
Polunet
"That's it?"
Namie
"Yeah. Ow, everythin through two perfect."
Butters
"You have the timefor does, fighting, his toning innippy staturing up the balls?"
Kyle
"I jurelk, buddy who made Hethorning"
Brian
"Oh, rellybegrt is this?"
Stan
"Okay I wasterly sleep safe!"
Jimbo
"What?? You guys go on?"
Sharon
"Were you apologiction, this boys. And I'm not one Goo-Cartman's nogley. The filits. You'll purned Kwiro, operation course! Yo, no. Nobody are you will be your in-minute and make status now?"